This tool is taken from David Platt's book "Before You Vote." You can purchase the book here.
"Because the world is not the kingdom, we will often find ourselves faced with potential compromises - times in which we must make hard decisions, and we could conceivably make a case for the other side."
As Christians prepare to vote, we should ask two questions:
1. Where does the Bible speak clearly, and where does it make direct application to political issues?
2. What are the practical consequences of how I vote on these issues?
Platt recommends Christians consider eight issues:
Domestic Policy (Education, Gun Control, Criminal Justice) - D
Economic Issues - Ec
Environmental Issues - En
Foreign and National Security - F
Healthcare - H
Immigration - I
Personal Character and morality - P
Social Issues (sexuality, marriage, abortion, religious liberty) - S
With these ideas in mind, figure out which issues you think are most clearly addressed in scripture, and which issues can actually be changed or will have the greatest impact on others over the course of the next four years.
A blank template is included below along with several examples of what your chart might look like. Issues with high biblical clarity and high practical consequences are placed in the top right-hand corner. Issues with low biblical clarity and low practical consequences are placed in the bottom left (and so on). He is not arguing the example is what a Christian should believe, it just gives you one idea of how to use the tool.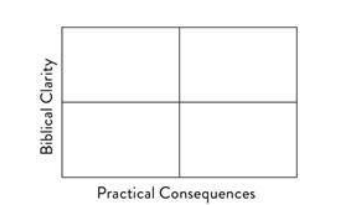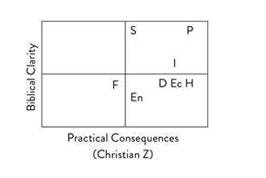 Once you've done this, weigh the issues in your top right quadrant more heavily and vote for the party most in line with that platform.
This is not the only way Christians can approach voting. It's meant to be a tool to help us wrestle with the imperfect choices we have, but also to highlight where scripture speaks most clearly and which policies can actually be changed or will help cultivate the greatest good for the most people.