City Groups
What are City Groups?
City Groups are smaller expressions of God's church that meet in homes throughout our cities. They are a diverse collection of individuals committed to the gospel and striving to spur one another on towards love and good deeds for God's glory between Sundays. Through these relationships we receive and respond to grace, imaging our Creator and lifting up the name of Christ.
Why are City Groups Important?
The New Testament is filled with God's instructions for followers of Christ to love and serve "one another." City groups are one of the primary ways of connecting in deeper community at City of God. Our vision is that we might grow in Christ together, "until we all reach unity in the faith and in the knowledge of the Son of God and become mature, attaining to the whole measure of the fullness of Christ."
We gather to discuss how the Bible applies to the circumstances of our daily lives, to care for one another's needs, and to seek the Lord together in prayer. Our hope is that everyone who calls City of God home will be actively involved in a City Group. The majority of ministry at City of God takes place through City Groups. They are the primary context for discipleship, care, and mission. In these gospel-centered communities scattered across our cities, we strive to make disciples who love Jesus, love people and advance the Gospel.
Our hope is that everyone who calls City of God home will be actively involved in a City
Group.
When do City Groups Meet?
Most groups meet City Groups meet together in full groups twice a month on their determined day and time, though some meet weekly. During these gatherings, the focus is on community, care, and prayer. We get to know each other and continue to grow in relationship with one another.

Find the times and locations of our groups below. It is always a good idea to contact a leader prior to visiting a group for the first time just to make sure the meeting day and time has not been changed for that month!
How Can I Find a Group?
You can find all the information you need about current groups in the list below. Simply click a group you're interested in, and you'll be able to get directions and contact that group's leader.
You're welcome to try several groups and see which is the best fit for you.
Littleton Street Group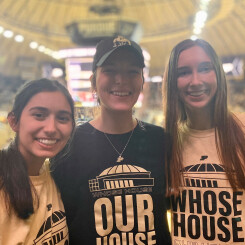 Description
This group is primarily for college students, but open to anyone that wants to come!